There are two types of tours available:
Small route, with an easy level of difficulty (1)
Long route, with a medium level of difficulty (2)
(1)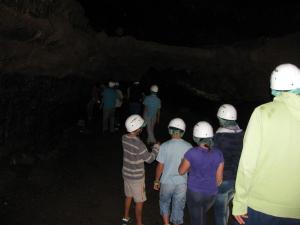 1. It's a general public tour covering around 200 meters of the lava tunnel with a guide. Maximum 15 visitors per tour;
2. It is advisable to make a reservation;
3. The tour takes in average 30-40 minutes, accordingly to the questions;
4. We provide a helmet to each visitor;
5. We advise suitable shoes and, accordingly to each person, a small jacket.
(2)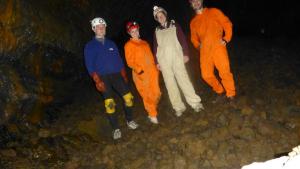 1. The long route tours is with a guide who as a speleological formation;
2. The route it's around 800 meters with a minimum of 2 and a maximum of 4 participants;
3. During the booking process we have in consideration the availability from both sides. Average 1 time per week;
4. Requirements: Minimum 10 years old and absence of diseases that makes it impossible to perform. More details during the booking process;
5. We provide gloves, knee pads and a helmet with a built-in light to each participant.​